editor's pick
featured
top story
Interactive maps track cases of Coronavirus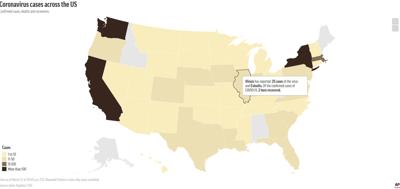 The Associated Press released the following interactive maps and graphs, to illustrate different data concerning the Coronavirus.

Virus State Map: State by state count of confirmed cases in the U.S.





Virus Cases in the US: Chart shows the aggregated number of new U.S. coronavirus cases confirmed over time since Jan. 23.





Virus Global Spread (Map): Map of countries which have confirmed cases of the virus. Map also includes when the virus was initially reported and the number of deaths by country.





Virus Cases Over Time: Table shows the of all confirmed coronavirus cases, recovery numbers and deaths, by country.





Virus Cases Compared Inside and Outside of China (Chart): Chart shows the number of confirmed cases in China over time and compares them to cases confirmed outside of China.