WACO, Texas -- If there is a blueprint for how a football program confronts the aftermath of a widespread sexual assault scandal, Baylor's new coach found it at his alma mater.
Much like at Penn State, where Matt Rhule played linebacker in the 1990s, the rebuilding job at Baylor involves far more than merely sustaining success on the field and keeping players from transferring.
Rhule, 42, says it's critical for him, even in the role of a football coach, to help teach his Baylor players how to be men and how to treat women, going so far as moving his father to Waco so players can witness a positive father-son relationship.
He believes it's important for Baylor to address the issue of sexual assaults on campus so aggressively that it becomes a leader on the nationwide problem, even amid several pending Title IX discrimination lawsuits and more than a dozen women claiming the school and football program ignored, mishandled or tried to cover up reported sexual or physical assault incidents.
More than winning football games, more than graduating players, Rhule is also tasked with healing a community.
"I don't know everything that happened, but I just know something happened that was wrong," Rhule said. "I feel like I am called to be here and to be here in this moment and to kind of fix this. If we don't talk about it, if we don't learn from it, then what was the point of it? I want to move forward, but I want to move forward always acknowledging the past."
Rhule empathized with the profound sadness that enveloped much of the Baylor community after feeling similar emotions earlier this decade in the wake of Penn State's child sexual assault scandal. That afforded him a particular appreciation for how another then-first-year coach served as an immediate stabilizing force.
"To watch how Bill [O'Brien] did that, I always think about his grace under fire," Rhule said, acknowledging that the circumstances surrounding both scandals differ. "What those kids at that time needed, they needed a calm voice. They needed an adult. He never panicked, never overreacted. He gave those players strength."
Greet Rhule in his office these days, in the early stages of his first training camp with the Bears, and you'll hear much of how O'Brien sounded in his early months at Penn State. Regardless of headwinds, Rhule remains resolute. He is compassionate. He is real.
"He is genuine," Baylor men's basketball coach Scott Drew said. "He's just very genuine."
Much like O'Brien five years ago, Rhule's first priority after a successful four-year tenure at Temple? Tend to the reeling and uncertain players he inherited.
He likened himself – and other staff hires throughout the athletic department – as "first responders" upon arrival. They had to repair a football team.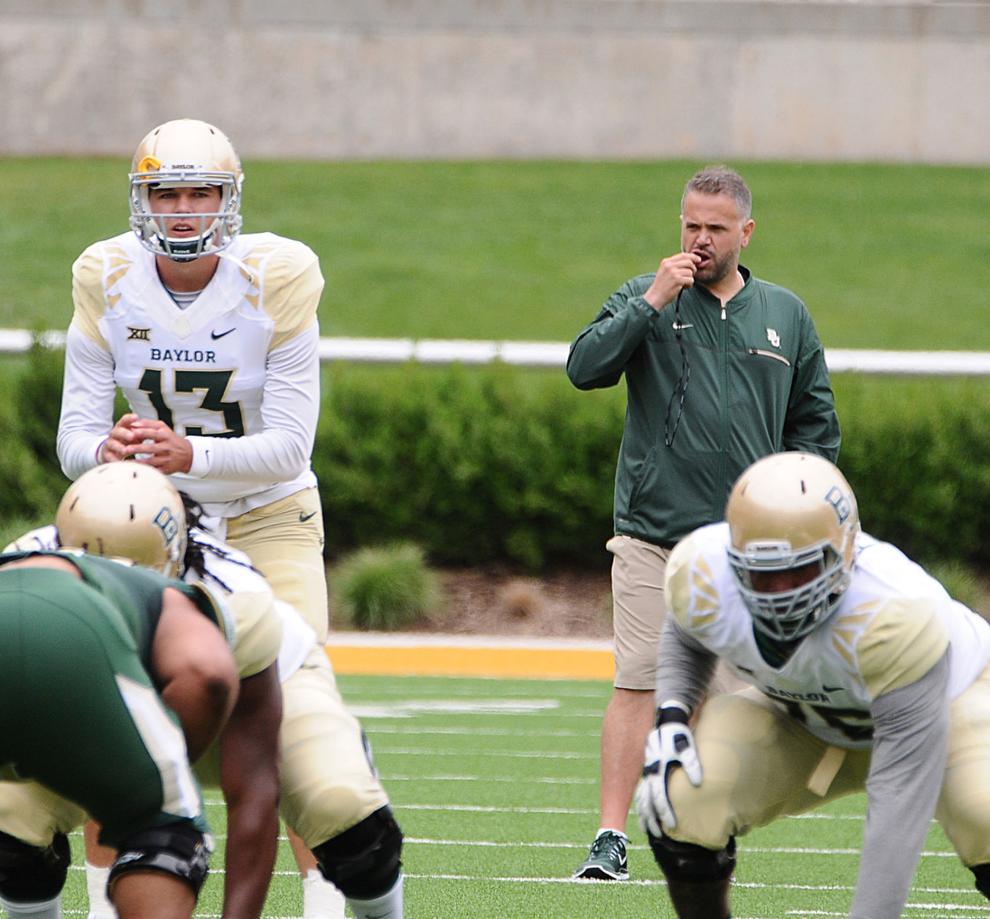 He felt he could have had as many as 20 players graduate and transfer to another program. He wasn't going to beg players to stay, but he wasn't going to sit idly by as other programs poached them.
At the time, Rhule's mind focused on the legacy left by the Penn State players who opted to stay even though the program was banned from playing in a bowl game. So he and his new staff invested time with players in December, cultivating relationships with them and their parents at the Cactus Bowl to begin to build a rapport.
The investment worked, ultimately. Rhule recalls that senior Taylor Young, a two-time all-Big 12 linebacker, wouldn't even meet to talk with the coach in December. Fast-forward to last month, when the two dined together at Big 12 media days in Frisco, Texas.
"How far we have come," Rhule said. "That to me was the first step – rebuilding the hearts and minds of those kids who had been through a lot and who had done nothing wrong."
With sexual assaults on campus a nationwide issue – drawing headlines far beyond Waco – Rhule believes it is important for him and his staff to help teach his players how to act like men. It's a hat coaches may not have needed or opted to wear decades ago.
To that point, Rhule specifically wants players to witness how he and his staff treat their wives and children.
"It's not a burden to be a great father, it's a gift," Rhule said. "Letting them see the joy that comes from having a loving family. A lot of them come from tough backgrounds. I want to make sure, no matter who they are, that they have a tremendous picture of what it does look like."
Rhule has gone a step further. His father, Dennis Rhule, a football coach and minister, moved to Waco and is paid by Baylor as he spends time with the team. The younger Rhule leans on him as a sounding board, while players see the positive interaction between father and son.
At the core of Rhule's philosophy is servitude and professionalism. Everything matters, he says, as he reshapes the program's image and culture. He even apologized profusely to a reporter this week after the coach was just a few minutes late to an interview.
What's more, all players will now wear coats and ties on road trips. No hats can be worn inside buildings. Rhule said players have already combined for 900 hours of community service. And he moved players into dorms for preseason camp so they not only would be together, but would be together on campus to strengthen the connection between the team and university.
No one knows how Rhule will fare in his first season, whether the program can sustain recruiting success in talent-rich Texas or what toll pending investigations will take on both goals.
But Rhule's vision is broader, and shining light on a sex-assault issue that universities increasingly confront is a critical step. He encourages recruits and their parents to ask questions about what occurred and how Baylor has responded institutionally. He wants Baylor to be a leader in measures taken to combat campus assaults, noting that school officials are in conversations with organizations such as Men Can Stop Rape.
To know that healing and a revival is possible, Rhule needs to look no further than his alma mater, which provides a model of how to navigate such waters.
"That which we don't acknowledge," Rhule said, "we are doomed to repeat."